31st Annual EAU Congress
11-15 March 2016
Munich, Germany
Facts & Figures
12,389 participants
4,414  abstracts submitted, 1,189 accepted abstracts
50 ESU Courses and 74 ESU HOT sessions
6th International Congress on the History Of Urology
The 6th International Congress on the History of Urology was held during the opening day of the Annual Congress. Around 200 participants attended.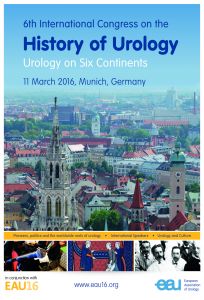 Key role for MRI
The Plenary Session on prostate cancer examined new imaging techniques such as MRI which prompted mixed assessments from cancer specialists, with many saying that MRI will play a key role in future treatment diagnostics.
Antibiotic stewardship
Antibiotic stewardship was a recurring topic in many of the plenary and thematic sessions as experts cautioned about the rise of resistant organisms due to the increasing use of antibiotics.
Full ESU Programme
ESU presented a full programme including 74 ESU HOT (Hands-on Training Sessions) on 15 different topics. The sessions, including the E-BLUS Exam, were very well visited.
Also several online ecuational programmes, such as Urosource, Surgery in Motion School and EAU Education Online courses were launched and promoted during the congress in Munich.